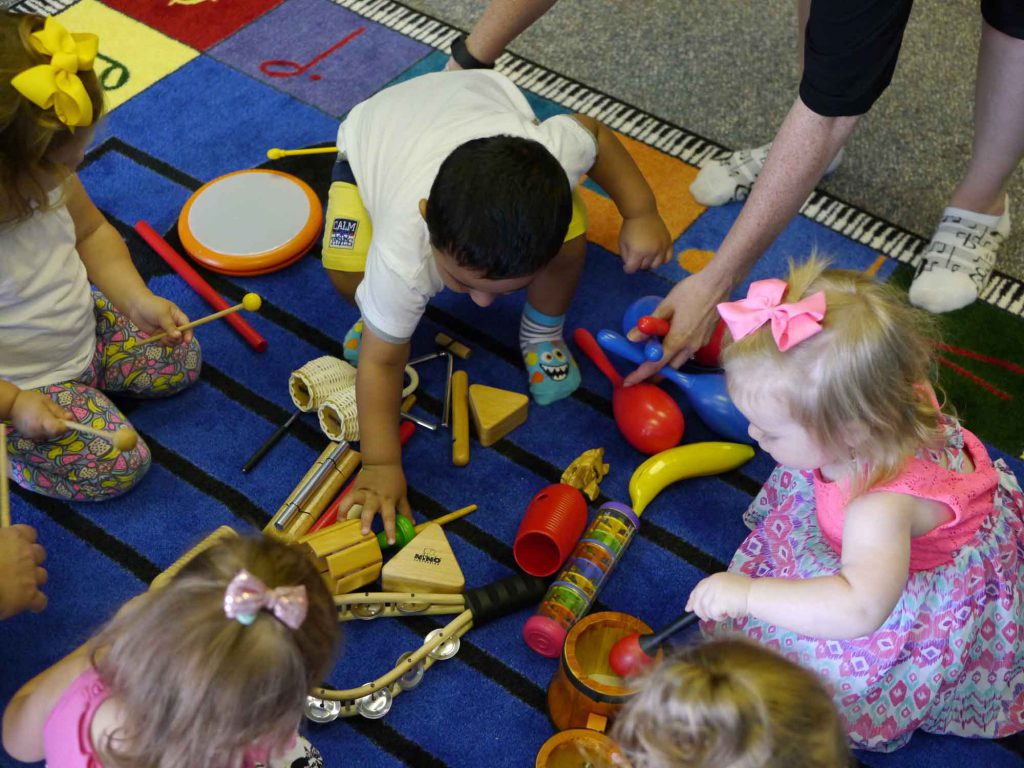 The 10 FREE Songs in our Rockin' Rhythms Sampler are favorites from our curriculum.
The sampler starts with Air Guitar Party and Rockin's ABCs, two Body Awareness Songs. The lyrics to these songs give age appropriate directions for gross motor skills, like jump, spin, stomp, clap, and touch the ground. Air Guitar Party is a completely original tune, while Rockin' ABCs takes the alphabet song that you know and love, and adds an active chorus.
Chug Chug Chug and It's a Small World are both laprides. During laprides, we bounce younger children sitting on our laps to the beat, allowing them to feel the beat of the music in their bodies. In addition to bouncing, we may go up and down with both legs, side to side one leg at a time, bump around, or even rock all the way back. (And grownups, you also get a great leg workout! Safety tip, don't ever sit the children directly on top of your knees, it's too much stress on your joints, sit them slightly above.)
Rainstick Clementine and Paradiddle are examples of instrument songs. Instrument play is great for fine motor development, in our classes we use rainsticks, rhythm sticks, cage bells, castanets, drums, triangles, tambourines, maracas, egg shakers, xylophones, boomwhackers, and handbells to play music together.
Playground balls in music class??? YES! Preschool learning is meant to be playful! We roll the ball, tap the ball, pass it to a friend, and even sit on top and bounce to the beat! Roll to Beethoven's 5th uses the motif from Beethoven's 5th symphony for its melody, and the Samba Ball Song is an original with steel drum accompaniment.
Puppet songs are a children's favorite. Mr. Alligator shares facts about alligators in a fun and playful way. The famous farmer has become a Zoologist in Old McDonald had a Zoo. Children delight with the Bear, Lion, Monkey, and Elephant Sounds.
Send me the Songs!