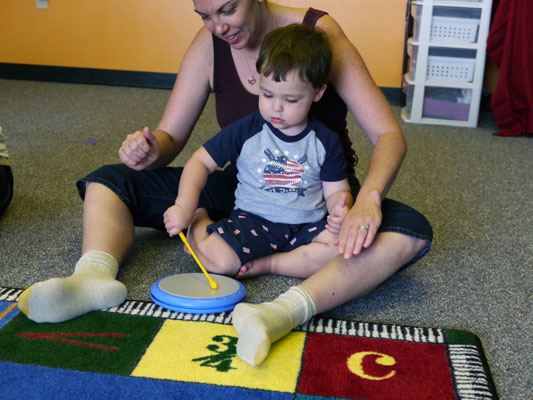 Rockin' Rhythms Tot Rock is an active and fun curriculum that is perfect for Toddlers ages 1.5-3 years and their grownups to participate in together. 
Rockin' Rhythms Tot Rock begins and ends with hello and goodbye songs where we greet each child by name. We move through a series of activities designed to encourage singing, as well as exploration and identification of instruments and the sounds that they make. Children have fun expressing the beat and the rhythm of music through dancing, tapping balls, and playing instruments.   
Our Rockin' Rhythms Tot Rock class introduces color and shape songs, solfege singing with echo microphones, musical games, and body awareness songs. 
Toddlers and their caregivers enjoy classical music, world music, popular music, and original children's songs.